How's your weekend so far guys? Lately, we've been pretty busy and anxious about our trip. Yesterday we did some last minute errands, drop off Buddy and the fish to my SIL's house, and went to Barnes & Nobles to get some books and movies. Here's a couple snapshots... courtesy of my blackberry.
While hubby and I were shopping for books, Akesha went to her favorite section of the bookstore. She grabbed a Dinosaur book and sat down on the floor. Waaaaa....for the love of dinos! I thought she is going to pick cartoon/coloring books or barbie books, but apparently, she is
definitely not a Barbie material
... lol!.....a
Dora fan
maybe.....lol!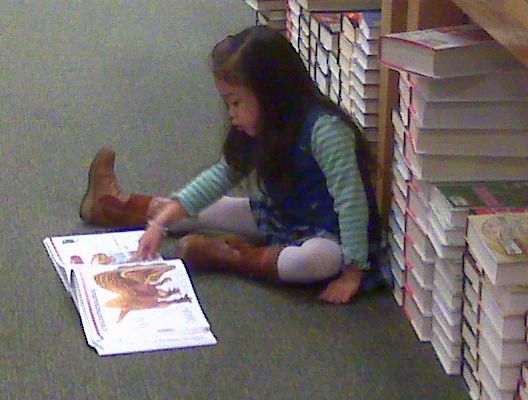 Her curiosity and intelligence at such a young age (she will turn 4 year-old on April) never ceases to amaze me. It will be interesting to see how her interests will shift or not as she gets older. We will see!