I made classic macaroni salad for dinner. Hubby and I are on a diet plan...I hope...hehhe! Today I decided to cook macaroni salad for the first time in my life. It did turned out very good and hubby was impressed.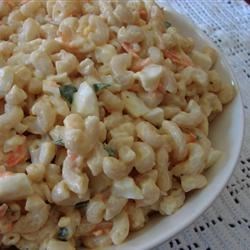 INGREDIENTS
* 4 cups uncooked elbow macaroni
* 1 cup mayonnaise
* 1/4 cup distilled white vinegar
* 2/3 cup white sugar
* 2 1/2 tablespoons prepared yellow mustard
* 1 1/2 teaspoons salt
* 1/2 teaspoon ground black pepper
* 1 large onion, chopped
* 2 stalks celery, chopped
* 1 green bell pepper, seeded and chopped
* 1/4 cup grated carrot (optional)
* 2 tablespoons chopped pimento peppers (optional)
* add to recipe box Add to Recipe Box
My folders:
* add to shopping list Add to Shopping List
* Customize Recipe
* add a personal note Add a Personal Note
DIRECTIONS
1. Bring a large pot of lightly salted water to a boil. Add the macaroni, and cook until tender, about 8 minutes. Rinse under cold water and drain.
2. In a large bowl, mix together the mayonnaise, vinegar, sugar, mustard, salt and pepper. Stir in the onion, celery, green pepper, carrot, pimentos and macaroni. Refrigerate for at least 4 hours before serving, but preferably overnight.