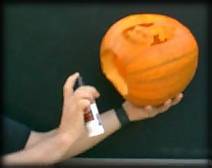 What's Halloween without a carved pumpkin? Check out these tips and tricks for keeping your carved pumpkin fresh.
Mold and dehydration are the two main contributors to pumpkin rot. Prevent both by covering the carved areas and interior of pumpkin with petroleum jelly. This will keep the pumpkin from drying out and will slow the growth of mold.
Another option is to add a small amount of bleach to a spray bottle filled with water. Spray the pumpkin daily with the bleach mixture; the bleach fights mold while the water keeps the pumpkin from drying out too quickly.
Spray the pumpkin with a store-bought pumpkin preservation spray. Make sure that it is environmentally-friendly and nontoxic. Note: Even with these precautions, a cut pumpkin will only last for a few days to a week, so it's best to cut your pumpkin no earlier than a few days before your Halloween festivities.