I would like to thank my newly found friend here in the blogosphere who have tagged me with this very interesting image....hehhehe...what a cleavage!....just kidding! Thanks a lot sis Meryl of "

Places, People, Events, Good Food & My Life

" for including me...that was very nice and sweet of you. Much appreciated sis!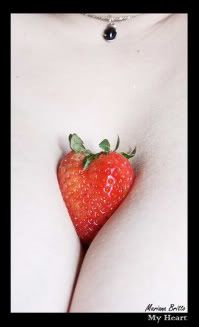 A. Attached or single?~~~Attached 4 years ago.
B. Best friend? ~~~My husband.
C. Cake or pie? ~~~I would prefer cake than pie
D. Day of choice?~~~Saturday
E. Essential item?~~~Bible and my PC.
F. Favorite colour?~~~red cherry
G. Gummy bears or worms?~~~Gummy bears
H. Hometown?~~~Misamis Oriental, PI
I. Favorite indulgence?~~~Travel and Food
J. January or July?~~~January because it's the first month of the year.
K. Kids?~~~I got one!
L. Life isn't complete without?~~~God, my husband, my family and friends.
M. Marriage date?~~~December 24
N. Number of magazine subscriptions:~~~I have 4..hehhe...(Home Decoration, Cosmo, People, and Allure)
O. Oranges or apples?~~~Apples
P. Phobias?~~~Nope
Q. Quotes?~~~"Destiny is not a matter of chance. It is a matter of choice."
R. Reasons to smile?~~~When I received something.
S. Season of choice?~~~Anything
T. Tag 5 people.~~~
TCecile
,
TAmy
,
Ghie
,
Denani
and
Ria
U. Unknown fact about me?~~~I am stuborn.
V. Vegetable?~~~ broccoli
W. Worst habit?~~~never tried to exercise in the morning
X. X-ray or ultrasound?~~~Ultrasound.
Y. Your favorite foods?~~~asian style..heheh...:)
Z. Zodiac Sign?~~~LEO...I am a lion...ggrrrrr!